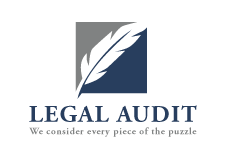 Legal Audit
The Legal Audit is a high level legal and compliance audit designed for your business to support the executives and entrepreneur with Corporate Governance, Risk Management and Legal Compliance (GRC) by laying the foundation for an ongoing and proactive legal compliance intervention program for your business.
By Adopting a diagnostic technique that considers legal issues, within a commercial matrix familiar to most business people, we are able to work with you to identify the big picture for your business and help you drill down.
Each element of the legal puzzle needs to be considered within your particular business context and a strategic plan implemented having regard to the whole rather than the individual parts of your business.
The Legal Audit Tool has been designed by top tier commercial lawyers to rapidly profile your business within the commercial/legal context to identify major areas of opportunity and risk within your business and to support growth.
QUESTIONS ABOUT A GOVERNANCE ISSUE? ASK OUR EXPERTS.