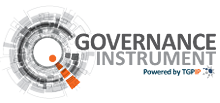 The Governance Instrument
The Governance Instrument (GI) is a digitally mature product facilitating the management of an organisations governance, as well as from the collated information, to publish the related Reports that provide Stakeholders assurance and comfort of its 'good governance'.
The Governance Instrument has its beginnings that the Institute of Directors of Southern Africa (IoDSA) developed a self-assessment methodology on King III known as the Governance Assessment Instrument (GAI). This is now a module incorporated in the Governance Instrument (GI). The King IV™ content has no further IoDSA contribution other than the verbatim inclusion of the King IV™ text. The GI has as an objective to provide a continuum from King III to King IV™.
King III is quantitative in nature ("WHAT are the recommended practices that have been applied as evidence for the 75 Principles?"). A quantitative review allows for objective Yes/No responses, without the subjectivity of HOW well the practices have been performed. Such an exercise does allow for a 'complete' foundational starting point to enact continual improvements in the quality by which the practices are performed.
King IV™ is qualitative in nature ("Describe HOW practices are achieving the outcome of the 16 + 1 Principles being applied"). A qualitative approach seeks for a response as a narrative. The call of King IV™ is for a qualitative Governance Report.
The GI has been enhanced whereby it is primarily a governance data collation platform, content being indexed by King III practices, King IV™ practices and King IV™ outcomes. The data informs the user in the compilation of a Qualitative Governance Report, that can be produced in any MS Office format, as well as being available for an HTML rendition on the organisations webpage.
QUESTIONS ABOUT A GOVERNANCE ISSUE? ASK OUR EXPERTS.